Looking for Fort Walton Beach Hotels Near Destin, Florida?
You`ve found your home at Wyndham Garden Fort Walton Beach Hotel.
Escape to a place on Florida's beautiful Emerald Coast that overlooks swaying palms, turquoise waters and white sand beaches at Wyndham Garden Fort Walton Beach. Exceptional among hotels and resorts in the area, we offer well-appointed accommodations, a variety of amenities, and friendly, attentive service to make your stay a pleasure. Whether you're in town for a family vacation, romantic getaway or are here on business, Wyndham Garden Fort Walton Beach Hotel has everything you could want in a beach front hotel or resort. If you are looking for a great place to stay in Florida for families that's affordable and close to many of the most popular attractions to the state, consider the Emerald Coast. Wyndham Garden Fort Walton Beach Hotel is here to serve you and is accepting bookings constantly. We look forward to welcoming you to our beautiful resort and showing you all that the Emerald Coast has to offer.
Your choice among Fort Walton Beach hotels
With an oceanfront location right on the Gulf of Mexico, Wyndham Garden Fort Walton Beach Hotel provides spacious guest rooms and suites close to exciting and entertaining attractions like Big Kahuna's Water & Adventure Park and the Gulfarium Marine Adventure Park. If you're here for work or military assignments, we're also conveniently close to numerous business, military and military-related sites like Emerald Coast Convention Center, Lockheed Martin, Eglin Air Force Base and Duke Field. And because we're right on the beach, activities like parasailing, snorkeling, scuba diving and jet skiing are all just steps away.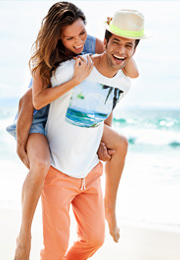 Beachfront Vacation


on Emerald Coast sugar white sand beaches

Wyndham Garden Fort Walton Beach Hotel is a family oriented beachfront hotel tucked away from the Destin traffic on Okaloosa Island. No other location compares to the world's whitest beaches and emerald green waters. With fishing, golf courses, shopping, and other attractions nearby, you are sure to find a way to pass the sultry Florida days. Our full service resort features all the helpful amenities needed for a comfortable stay, including luxurious penthouses and one bedroom suites with kitchens.
Indulge in Relaxation
Join us at Wyndham Garden Fort Walton Beach Hotel and enjoy a one-of-a-kind escape on Fort Walton Beach. This Fort Walton Beach Hotel is designed to offer a variety of amenities to service your every need throughout your stay. We offer a prime location on the Emerald Coast with close access to Elgin Air Force Base, Emerald Coast Convention Center, Lockheed Martin and Duke Field. Great beach activities also take place very close to Wyndham Garden Fort Walton Beach hotel. Staying in our accommodations you can have close access to soak in the heat and the beach as well as enjoy a number of amenities including snorkeling, parasailing, scuba diving, jet skiing and more just steps from the hotel.
no other resort on Okaloosa Island 
Gives you More!